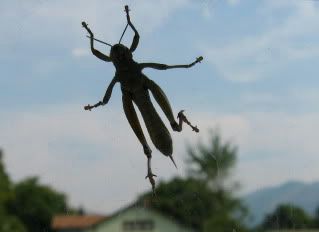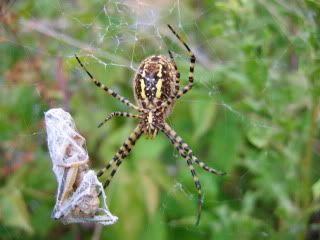 As many of you know, in late summer and early fall, as the hatches begin to dwindle, trout look more and more to terrestrial insects for their surface fare. Grasshoppers are a mythical insect among Western trout fishermen, known for bringing large trout up for slashing takes. The reality is more often a gentle slurp but I always think about those explosions when I'm laying in bed awake on a late summer evening.
Here in the high desert, we have localized grasshopper infestations and when an angler locates one, he can be sure the trout are used to lining up just off the bank during windy afternoons, picking off the hoppers that don't quite make it back to land. These fish can get as picky as a big brown sipping blue-wings sometimes, because they know what a hopper looks like and how it twitches. This profile, motion as well as the myriad of colors, make it a tough bug to match sometimes.
Here's a great example of prime hopper habitat, on Slough Creek in Yellowstone.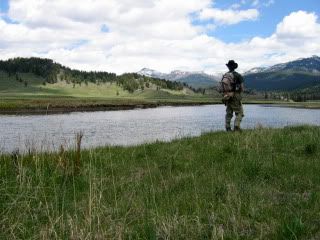 As far as colors go, hoppers can be anything from white to florescent green. I think my favorites for exact imitations are cream, tan, and yellow, but a lot of the guides I know swear by pink. I've had good luck with pink as well, but when I'm wading my favorite hopper banks, the fish sometimes get fussy. However, if you're in the boat searching water, pink can be productive.
Gary LaFontaine is my hero, if you didn't already know and I loved his scientific approach to fishing. In
The Dry Fly: New Angles
he recommends two alternative tactics for hopper eaters. First, fish a sunken or weighted hopper. Trout, especially big ones, are less suspicious of big patterns if they're underwater. Second, fish patterns that have a lot of motion built into them. He fished a jointed bug on a Flex-Hook, but rubber and foam help give a pattern motion as well.
Now is the time to start chucking hoppers. All it takes is walking the bank and finding those localized infestations. If you're really sadistic, you can catch a few hoppers and do a little chumming. It'll amaze you how many fish will ignore your imitation, but slurp the naturals without a second thought. Good luck. Hope this takes some of the randomness out of your hopper fishing.