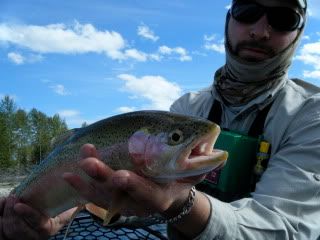 I love autumn fishing in MT. The elk hunters take to the woods, the weather becomes a more formidable obstacle, and fewer and fewer anglers make the effort to get out on the stream. Some of the worst weather days are some of the best fishing days.
The Bitterroot is shifting into fall mode, with mayflies galore. Tricos, BWOs, mahoganies, and hecubas generate some of the most consistent dry fly fishing of the year. Coates and I have been developing a new style of purple mayflies that have thus far proved to be very effective. Why they like purple so much who knows, but the fly shop Purple Haze patterns have a variety of problems that we believe we have fixed. Streamers have been taking nice browns and rainbows alike.
The Blackfoot is still giving up some nice fish on big bugs during the warm afternoons and hoppers are still clicking in the sun on the grassy banks. The Upper Clarkie also continues to be hopper paradise, with mayflies filling in the gaps. Word on the street is that Kelly Island is starting to bounce back from the dam construction and it might behoove you to explore the braids for sipping rainbows.
Get out there while you still can. The browns are starting to get angry and the next 4 weeks will be some of the best fishing of the year, especially given the rain and great river flow levels we are seeing. Might be making some trips to the Mo' and the Big Hole in the near future and steelhead are starting to arrive in Idaho. Let's do this!