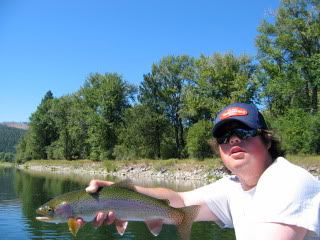 Tricos and terrestrials are late summer and early fall staples no matter where you fish, and here in western MT, it's no different. According to NOAA,
the weather looks to stay sunny
, with a large ridge of high pressure pushing most precipitation to the north into British Columbia. This means an extended grasshopper season and more time to hit the tricos in the mornings. It also might mean slower fishing with mahognies and BWOs.
Fish have been picky as usual with the trikes, although trout in the faster water have been more willing to eat small attractors. For those picky fish, exact imitations and 6x are a must. Double-wing or cluster patterns and 5x tippets were regularly rejected by selective fish on the lower 'Root this weekend. Good luck out there. I will be spending a large portion of the week working inside, although I hope to get down to the Big Hole on Thursday and Friday.